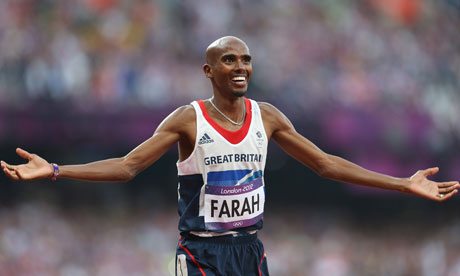 Double gold medal winner hailed as 'Olympic legend and true British hero' as he dedicates victory to unborn twins
- Shortly after crossing the line, Mo Farah dedicated his double victory to his unborn twins, saying: "Those two medals are to my two girls that are coming. They're not born yet, hopefully. They're twins so there's one for each. They could arrive any day."
His pregnant wife Tania, and daughter Rihanna, celebrated again in a repeat of last Saturday night's scenes. In a year of celebrations, it was apt in the Queen's diamond jubilee that Farah's medal was Team GB's 60th of the Games. What's the secret of your success, the BBC's Phil Jones asked: "It's all hard work and grafting." Farah added: "It's been a long journey grafting and grafting, but anything is possible."
Completing his 50th lap of the Games, his victory meant that he became only the sixth person in history to complete the 5,000m and 10,000m double. Despite being his third race in seven days and, emulating that other superstar of London 2012, Farah still had enough energy to perform a few sit-ups just beyond the finishing line.
Reflecting on his epic achievement, Farah grinned and said: "Who would have thought that?"
In the commentary box, Steve Cram could hardly believe the scene. "Beee-yootiful!" Cram roared as his co-commentator Brendan Foster simply stood, arms aloft, clapping and grinning as Farah crossed the line. Foster called it "the greatest single moment in British athletics history".
The praise was instantaneous. Farah trended on Twitter, as did #GoMo and "double olympic champion". The prime minister tweeted: "@Mo_Farah is an Olympic legend and a true British hero. We can all be proud of his extraordinary achievement."
Paula Radcliffe said: "Greatness is doing it two Saturdays in a row at the Olympic Stadium."
Soaking in the adulation, Farah still managed to remember to plug his foundation's first fundraising ball on 1 September in aid of the famine in the Horn of Africa. "There's still tables available," he said. Within minutes, the Mo Farah Foundation's website crashed as thousands logged on.
Farah's odds to win Sports Personality of the Year were instantly cut to 5-2 – clear second favourite behind the Tour de France winner and Olympic gold medallist Bradley Wiggins, who remains the bookies favourite at 8-13
Born in Mogadishu, Somalia, the young Farah lived what he has since described as a "comfortable life, not easy but not hard". That changed when the country was plunged into civil war and the capital grew increasingly lawless, with murder and kidnapping commonplace. Farah's family moved first to Somaliland, where conditions were harsh, before seeking refuge in neighbouring Djibouti.
Aged eight and speaking little English, Farah was brought to Britain by his father and joined his extended family in Hounslow, west London, attending junior school in nearby Hanworth. He later enrolled at Feltham community college where his running talent was spotted by the PE teacher Alan Watkinson. Farah harboured dreams of playing for Arsenal, and remains a fan, but showed promise at cross-country and, aged 14, won a place on an English schools team running in Latvia. He worked in a fast-food restaurant and a sports shop after leaving school, before securing a £10,000 national lottery grant to take up athletics full time.
Farah's brother Faisal chose not to make the move with their father and has remained in rural Somaliland where he works as a farmer, living on a tiny homestead where camels, cows and donkeys occupy the surrounding terrain. The siblings still speak on the phone every day. Faisal feels no jealously towards the family's world-beating Olympian, saying that when he watches Farah run, "it is as if I myself am running, so I cannot be jealous of him".
Farah's move to Oregon, in the US, last year for an intensive and detailed training regime set up by his coach Alberto Salazar is credited with taking his running to a new level.
Yet the double-gold winning champion has never forgotten his roots – exemplified by his support for his foundation right at the pinnacle of his sporting career.
By Paul Gallagher
and Josh Layton (The Guardian)