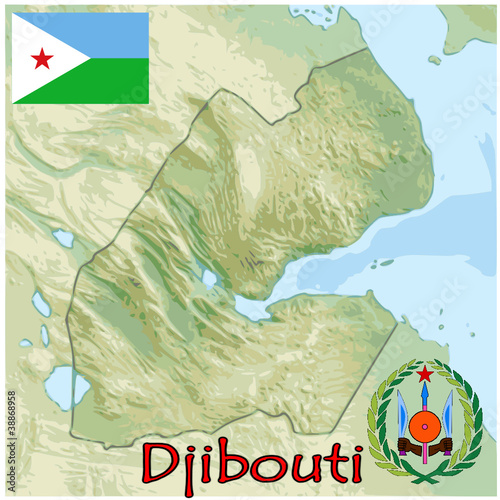 Welcome to Djibouti
Djibouti, with a total population of 774,389 as of July 2012, is located in Eastern Africa, bordering the Gulf of Aden and the Red Sea, between Eritrea and Somalia. The country mostly has a desert type of climate and covers a total area of 23,200 km2.
Djibouti was formed in 1977 by the combination of the French territory of the Afars and the Issas. The country serves as a chief transshipment area that allows the entry and exit of goods from the east African highlands. The country is also a significant refueling center and most port activities revolve around the import and export of goods from Ethiopia.
The country's per capita consumption saw a decline between 1999 and 2006 because of the civil war, increasing population and global recession. In 2011, the country's GDP was $2.26 billion. With only limited amount of natural resources, Djibouti depends more on international aid to balance its economic status and develop more revenue generating projects.
Overview of Resources

Djibouti's key natural resources include salt, petroleum, gold, clay, marble, pumice, gypsum and diatomite.
In 2010, the production and consumption of minerals in Djibouti was not internationally recognized. The country at this time produced salt and perlite along with other construction materials. The production of salt in Djibouti started in 1998 at Lake Assal and in 2010 the country's salt output increased to approximately 14%. The mining of perlite on the other hand started in 2009. In 2010, the country's' mineral sector was preoccupied with the production of salt that was executed by private sectors.
Industrial Minerals
In 2010, the production of salt in Djibouti was limited by issues such as lack of iodization machinery, poor working conditions and the absence of regular energy and water supplies. The salt mining operation executed by Société d'Exploitation du Lac Assal at Lake Assal was expected to produce salt amounting to 86,000 Mt/yr.
Salt Investment SAZF aimed at completing a salt mining and processing plant at Lake Assal. This plant was expected to produce salt amounting to 4 million Mt/yr by June 2010. However, the construction of this new plant was on hold as the salt in this region was not suitable for large scale mining because it lacked a consistent chemical composition.
Metals
In 2010, gold was the chief metal explored in Djibouti. Stratex International plc in collaboration with Thani Ashanti Alliance Ltd. decided to carry out gold exploration activities at the Afar project in Djibouti and eastern Ethiopia in 2010. Six exploration licenses were owned by Stratex as part of the Afar project.
Investment
An American salt miner intending to carry out a $70 million worth salt mining project in Djibouti claimed that the country is abundantly rich in salt as it has 50 square miles of salt which is a boon to Djibouti's mining industry.
According to experts, Djibouti is a small country with big dreams that have bright prospects in the coming years. In 2008, the country was filled with foreign investments that included gold miners from India, French bankers and Saudi Arabia oil engineers. Djibouti's port has also attracted huge investments from Dubai.
Recent mining reports talk about the mining activities carried out by an international coalition of sailors and divers for a period of 12 days. These mining activities demonstrate the usage of magnetized cables, underwater drones, sonar and helicopter-towed acoustic devices to foresee Iran's interference in oil exports. These mine-clearing drills stretch from Persian Gulf to the Gulf of Oman to the Gulf of Aden and Djibouti.
Through these mining activities, Djibouti will thus be able to monitor the exports and imports of its oil trade and the country also hopes to become a significant African trade center as it is already drawing in an increasing amount of overseas investments. These investments and proper execution of various mining and mineral projects are likely to uplift Djibouti's economic status and highlight its richness in mineral resources.
By Gary Thomas
''Disclaimer: The Author of this article does not imply any investment recommendation and some content is speculative in nature. The Author is not affiliated in any way with any companies mentioned and all statistical information is publically available.