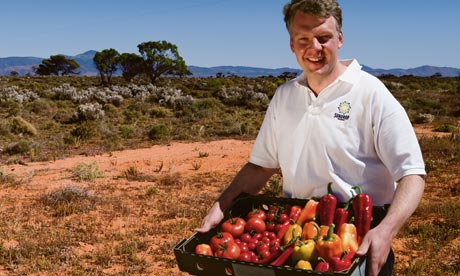 ''..And we have talked about a project in Somaliland [the unofficial breakaway part of Somalia], but that would be difficult as

there's not even a hotel to stay in

." Philipp Saumweber
- Philipp Saumweber is creating a miracle in the barren Australian outback, growing tonnes of fresh food. So why has he fallen out with the pioneering environmentalist who invented the revolutionary system?
The scrubby desert outside Port Augusta, three hours from Adelaide, is not the kind of countryside you see in Australian tourist brochures. The backdrop to an area of coal-fired power stations, lead smelting and mining, the coastal landscape is spiked with saltbush that can live on a trickle of brackish seawater seeping up through the arid soil. Poisonous king brown snakes, redback spiders, the odd kangaroo and emu are seen occasionally, flies constantly. When the local landowners who graze a few sheep here get a chance to sell some of this crummy real estate they jump at it, even for bottom dollar, because the only real natural resource in these parts is sunshine.